Want to buy a vehicle?
If you are in the motor trade and are looking to purchase new vehicles, here are some of the advantages of buying a nearly new ex-rental vehicle from VRS:
The vehicles are nearly new, generally between 6 and 12 months old.
You can enjoy the experience of buying a low mileage latest model vehicle at trade prices.
As an ex-rental vehicle, you have the peace of mind that the car has been regularly cleaned and maintained at the end of each hire.
Most vehicles are still within the manufacturer's warranty.
All vehicles are refurbished to a good standard at the end of their rental life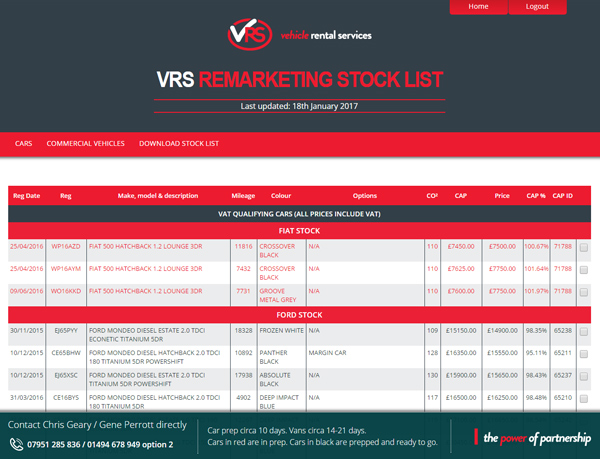 Trade Vehicle Sales
If you would like to buy a vehicle from us, be added to the distribution of our stock list, or have any questions, then please email us at remarketing@vrs.co.uk
or call Angus Bailey on 07765 183856
or Bethany Kilpatrick on 01494 678 949 (option 2).
Retail Vehicle Sales
If you are a private individual looking to purchase a vehicle please click here to be taken to our Lookers Plc retail sales website.
Used Car Buyers
If you would like to register as a Used Car Buyer please click here
Forgotten your username or password?